This message is available in : French
WARNING! This post contains an enormous amount of geekness. Reader's discretion is advised.
Yesterday I passed by Otakuthon, at the Palais des Congrès. What is Otakuthon? To sum it up briefly it's an anime convention bundled with every other geek pleasure under the sun.
I had never gone to that convention before and as a good little geekette I just had to go at least once and see what all the fuss was about.
I didn't really know what t do except take lots of photos of cosplayers, especially of the ones that reminded me of childhood heroes.
***
With a little bit of luck we stumbled upon the conference given by Lar De Souza, illustrator of the webcomic Least I Could Do (and also LFG) that my boyfriend reads. His panel was simple, he spent most of the time working on the upcoming comic while answering questions from the public. He answered questions from that ranged from tech tips to his recent trip to see the last shuttle launch. The panel ended with Speed Sketching, a little game where he sketches suggestions from the crowd as quickly as possible, interpeeting them as he wishes. The drawings should be up soon on his twitter here.
What I would look like if I had a butt for a face.
***
In the afternoon we decided to try boardgames, more particularly Donjon de Naheulbeuk, that has been intriguing my boyfriend for a while.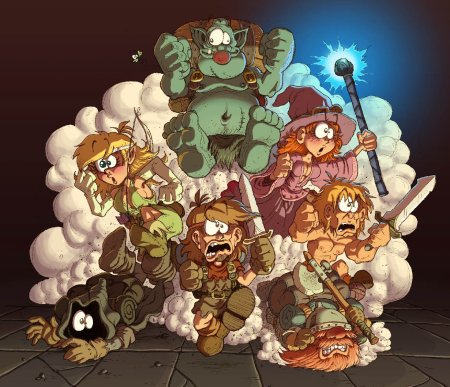 It's more of a party than a role game like Dungeons and Dragons: it's just as silly as Munchkin, coupled with a few ability games. Very nice game, but I still plan on saving up for something more tarditional like Cranium or Pictionnary.
***
On the food side nothing new or good at the Café Cosplay. It was weird to be greeted in japanese by Quebecers especially those with a low voice (no offense to you girls, you were cute!) In my mind a maid café is a place where cute girls bring us delicacies with a cute voice, not cooks in aprons that toss cold food on a plate. We were better off in Chinatown next to the convention center.